Real estate marketing relied mainly on old-fashioned marketing for many years, such as flyers, postcards, and snail-mail.
Nowadays, when  98% of older millennials start their house hunt online. Listing your property online should be the first thing on agents' lists when they begin to market a house, and Single property websites are one of the most incredible ways to do it.
So why should a realtor use single property websites in his marketing strategy? What is the best way to do it?
To find the answer to all those questions, we gathered all tips, tricks, and explanations into one comprehensive guide for single property websites in 2022
What are Single Property Websites?
Simply as it sounds, a single property website is a real estate website that is dedicated to a property/listing and includes all the information about the property: basic information, features, amenities, images, videos, floorplan, and map, along with the agent/agency contact information for interested buyers.
While many agents prefer to show this information on a listing page, which includes the property information, single property websites offer the opportunity to showcase the property in a more unique & eye-catching way.
6 Reasons to include Single Property Websites in your marketing strategy
Unique & eye-catching

Unlike listing pages such as Zillow, Trulia, and Redfin, which use pre-defined format to show the property details, Single Property Websites offers you the opportunity to stand out from other listings and catch the eye of the potential buyers.
Although creating a complete website design from scratch may seem complex, many platforms nowadays offer a website builder and a large selection of templates to simplify the process. There's no need to overthink. 
Choose the proper media and enter the information, and the rest is automated.
They are easy to share
You can share Single Property Websites directly on your social media profiles like Facebook, Twitter, and Linkedin. It can also be shared on Instagram but only in bio, making Instagram a less recommended option.
Another option is to share it via email marketing and direct messaging apps like Whatsapp, Telegram, or any app your potential clients use.
They focus the buyer on your listing
The most critical aspect of lead conversion is reducing distractions from your potential clients.
Distractions can confuse people when they need to take action and make a decision, and nowadays, where distractions constantly surround people, it's even more complicated.
Therefore, your main goal is to reduce their distraction and help them make the right choice.
Third-party listing websites such as Zillow are full of distractions. They have many banners, and they offer the customer many other housing options – FOMU is everywhere.
Single property websites can help you focus the buyer on your listing and your listing only. The buyer can only see your information and photos, and you can choose what to show them.
Remember – Less distractions = More conversions
You can use it in paid advertising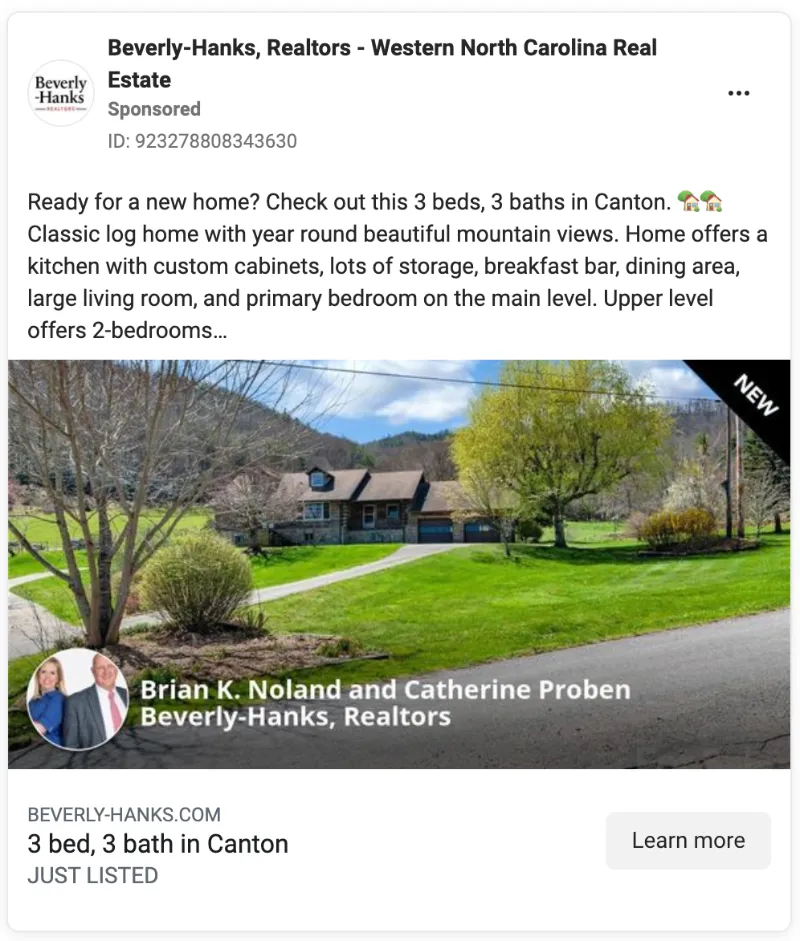 We highly recommend using paid advertising on social media networks for real estate.
You can reach a vast audience and reach people you could never engage with in other ways.
An excellent landing page is essential if you want to advertise correctly – you can track potential customers' activity and conversions. In time will help you build the buyer persona and target the right audience with the highest probability of becoming a buyer.
Single property websites can be the solution in this case.
It helps you impress your potential home sellers
When you are in a meeting with a potential client, you want to show the client everything you know and convince him you are the right person for him.
The meeting is basically about what you can do for him and how you can market their homes.
Every agent uses listing pages and a photographer, but when you show that every property you have has its single property website, you can stand out – it's impressive.
It seems like a lot of work and time for the outside viewer, and it can show them you are investing time and effort. People love this special attention.
Including a few examples of the Single Property Websites, you can create for them can help you secure more listings and close more deals.
Easy-to-do and cost-effective
Although it may seem like a complex thing to do, Single Property Websites can be done easily and inexpensively, thanks to technology.
You can still go to a professional developer, pay top dollar and wait weeks for the work to be done, but nowadays, there a options to do it on your own, with ready-to-go templates, at low prices, and it doesn't have to take more than an hour if you have all the content ready.
Nowadays, single property websites are easy to create and can be a great affordable marketing option.
7 tips, tricks, and hacks to make a better single property websites
Include exclusive content
People love exclusive content and love exclusiveness in general.
If you want to drive potential clients to your website, it must be unique. Therefore you should offer exclusive content they can't find anywhere else.
Include photos, videos, and unique information that do not exist on listing pages or any other third-party websites.
When promoting the website, promise your potential clients they won't be able to find this content anywhere else. It will increase their curiosity and trigger them to click.
Include maps

A single property website should include all the relevant information about the property itself and the interiors.
To add an extra edge, include a google map and the street view of the property. It will offer the potential buyer the opportunity to see the neighborhood and the property's surroundings.
That is an essential factor for buyers when making a decision. You want to make it easier for them to get the visual and basic information about the neighborhood without extra search on Google.
Use high-quality photos
Most of the third-party listing pages, due to performance reasons, compress every photo you upload, and it's usually decreasing photo quality, and on desktops especially, it won't be impressive.

In your single property website, you set the rules. You can upload high-quality photos and showcase the property in a much higher quality.
Make sure you don't upload photos that are too big. 1400px width are just as good. You must balance quality and performance because the bigger the photos, the longer it takes for the website to load.
Longer loading time = more bounce rate.
Use videos
Videos, in 2022, are the best content you can offer for your clients, people love it, and it draws their attention and increases their interest. 
But unfortunately, some of the third-party listing websites may not allow you to upload a video, and on single property websites, you have the option to do it.
You can use drone fly-through videos, home tours with detailed information about every room and section of the house, and add voice-overs where you explain in your voice about the property.
Videos are an excellent opportunity to showcase details and information that you can show when using photos or text alone and complete the picture for the potential buyer.
Make sure it's mobile-friendly
According to a recent study, 98.5% of users accessing Facebook via mobile (and 81.8% doing so exclusively) – people use mobile more than desktop.
Therefore, your website must look great and be optimized for a smaller screen, as they do on a desktop.
You have to make sure that every Single Property Website you create is mobile-friendly.
Fortunately, website builder platforms usually consider mobile-friendliness when creating the templates, so you have to do too much. Just double-check before sharing the link, especially when advertising, so you won't spend money.
Include a floorplan

According to a new survey from Trulia, 90% of all American homeowners plan to remodel their houses. 
Therefore, a floorplan is an excellent resource for potential homebuyers because it helps them visualize the home and show off its future potential if they decide to renovate.
Floorplans also help homebuyers better understand different elements and aspects of the house and how they are connected and make it easier for them to plan their home setup.
Make sure contact info is easy to find

Single property websites are impressive, but we must remember that their primary purpose is to reach and connect with potential homebuyers.
Make sure your information is easy to find:
Include your contact information at the footer, so it will show up after they get all the information they need and are willing to take action.

Include a contact form to capture the leads so you can contact them anytime later.

Do not ask for too much information because the more fields you have, there's more chance they will give up. Name, phone number, and email are more than enough.
Create your own Single Property Website with Property Face
In conclusion, Single Property Websites are a great marketing tool that you must include in your marketing strategy.
It's a powerful, affordable, and cost-effective way to make a great impression on both sellers and buyers and help you sell more listings.
If you are ready to take a step up, Property Face can help you: Create a property, upload photos & videos, Choose your template, and customize however you want.
Sign up today and build a website that will help you attract more buyers and sellers and sell more listings.